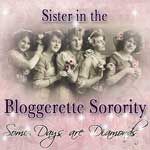 Won't you join us?
I am part of a sorority...
I am RUSHING this unique sorority. If you would like to be apart of it, hit the button above and it will take you to Some Days Are Diamonds. It is not to late to join. We all have wonderful things to share.

I must get started on my project and picture. Even if it is late.....