Don't forget about my giveaway......

HERE
Who doesn't love Yo-

Yo's

???
My kids love them. As I was making my yo-

yo's

, they were playing with them. I was collecting them in a jar, and every time I turned around, they had them out. They made path ways and pretended they were people. Who knew they could spend an hour playing with yo-

yo's

?
I saw this idea in a
Mary

Engelbreit

book. I just love it. Gives your pillow case a vintage look.
I made a bunch of yo-
yo's
and sewed them on the front end of the pillow case.
Here is the end product. My little girl has claimed this for her pillow case.
(I know that yo-
yo's
is not a possessive noun; however, the word looks better with an
apostrophe
to make it plural)
Boy and his best friend... well ... not exactly.
Bryce is a little rough with Daisy Mae, and
he wonders why she growls and want lay with
him and cuddle....

I'm linking my project to.............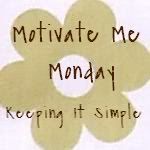 Show Off Your Cottage Monday