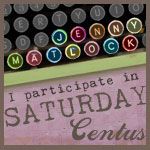 After several attempts at trying to write something to go with this week's prompt, I finally came up with an idea that I liked. The prompt is written in black.






My feet were killing me as I ran along the river bank. I hate camping and especially when it has been raining for days. But my best friend was back at camp needing medical attention for a cut he received from climbing a mountain yesterday. Infection had set into his leg where the cut is, and he is unable to walk. So at this moment, I'm wishing I had never came along on this little adventure.

As I'm running, the water seemed to be flowing faster down river. Something felt strange in the air. I couldn't make out what it was. I looked back over my shoulder, squinting into the late afternoon sun, gawking with stunned alarm at the broad rolling muddy waters of the Mississippi.

"Oh my gosh!" I screamed hoping for a miracle at that very moment.