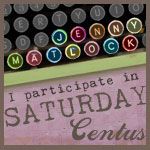 As a writing teacher, this should be fun.... (I'm a 4th grade writing teacher.. so I have to get out of that young way of thinking mode)
This post is linked to
Saturday Centus Week 2
. A 100 word story based on a prompt. The prompt is in bold below.
The small Cessna 172 picked up speed as it roared down the runway, Sara at the controls, the flight instructor beside her.


Her heart was pounding, and her hands were unsteady. Why was she doing this? She had nothing to prove. But in the back of her mind, she could only think of one thing... Noah.

He had been on her mind ever since he left for that small town in Alaska. Her heart had been broken. She needed an excuse of why she was following him. How to get close to him without him knowing that she was madly in love with him.

So here she was, as she closed her eyes and pulled back on the controls to take flight.